The prestigious Gaurav Samaan Award has been given to the Smile India Trust, marking a significant accomplishment. For its exceptional achievements and unrelenting dedication to social service. Particularly for doing extraordinary work during the Delhi floods. Apart from that, the Gaurav Samaan 2023 was bestowed on us for the overall work we do in the field of NGO. Gaurav Samaan Award known for acknowledging exceptional organizations, celebrates the significant impact Smile India Trust has made on the lives of countless individuals in need. In this article, Smile India Trust's inspirational journey is examined, emphasizing its ground-breaking projects, community empowerment efforts, and well-earned accolades from the Gaurav Samaan Award.
A Brief History of the Smile India Trust, Gaurav Samaan Award;
Smile India Trust was established in 2017 as a non-governmental organization devoted to improving poor areas all around the nation. Particularly it was focused on the well-being of the street and slum children. The NGO also focuses on education, health care, women's empowerment, and community development with the goal of bringing about constructive social change. The Smile India Trust has constantly strived to end poverty and guarantee a better future for society's most vulnerable groups.
Significant Initiatives of SIT which made them deserving Gaurav Samaan awardee:
Food Distribution:Our NGO funds and supports health and nutrition projects for poor children. We provide nutritious meals, including mid-day meals at schools, to ensure no child goes to bed hungry.
Child protection: Abandoned children scavenge in rubbish dumps are at high risk of abuse, exploitation, and child trafficking. Hence Smile India Trust provides a safe haven for the children by providing them safe houses for them to survive in. They try to prevent any kind of exploitation from happening to the children.
Women's Health:SITalso focuses on the health and well-being of the women in India. The NGO takes out various awareness drives to make women aware of their rights. Be it the domestic or political realm Smile India Trust stands stern for equal participation and status for women.
Education and vocational training:
SIT recognizes the need for education to change the lifestyle of children. Thus, the NGO is providing general education to almost 70-80 Children. Also, SIT takes out various workshop events and vocational training activities to provide the youth with hands-on experience. Thus knowledge accompanied with skills helps the child to get themselves a job.
Disease and pandemic awareness drive: Smile India Trust has organized multiple awareness drives to aware people of various diseases. The NGO organized drives for HIV/AIDS, Cancer, Diabetes, and many more from time to time. Smile India Trust also distributed masks and hand sanitizers to all during the COVID-19 pandemic,
Other initiatives: Along with the initiative explained above SIT also undertakes many other welfare initiatives like Pollution Mask Distribution during pollution upheaval in Delhi. Provision of medical assistance to poor children and burnt patients as well. Provisions of drinking water. Distribution of clothes to the poor who can't afford to have a piece of cloth on their body.
Extraordinary efforts made by SIT during FLOODS IN DELHI NCR, Gaurav Samaan Award;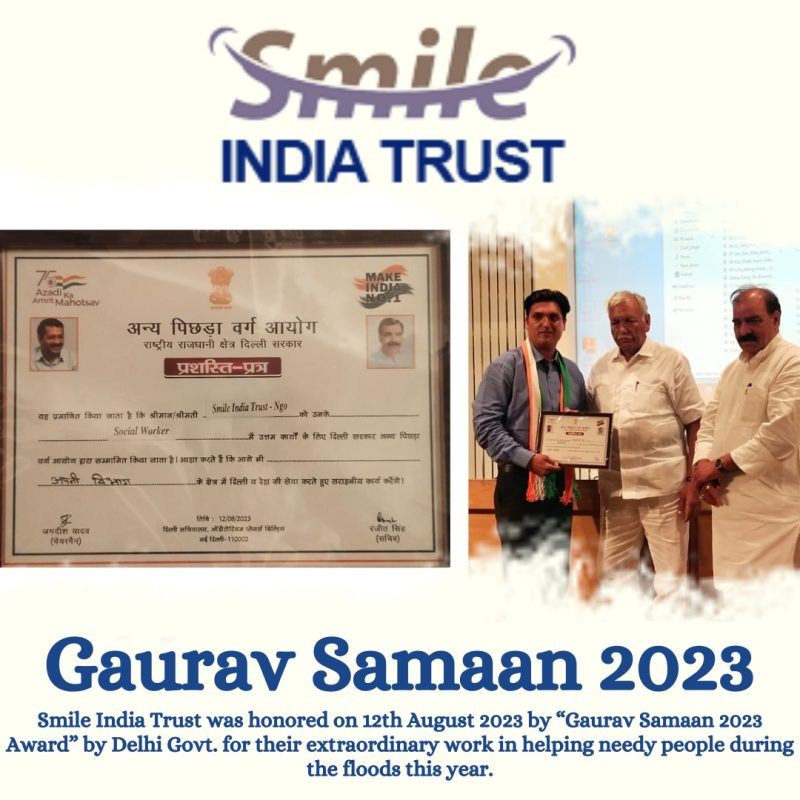 The Capital city drowned in water during the devastating floods. During this grave situation, SIT emerged as a helper to all humankind. We provided people with almost all the facilities required to survive the flood. From food distribution to provision of drinking water in low-lying areas SIT made efforts to help them all. The NGO also assisted the government officials in initiating the rescue operations. Nutritious foods were regularly provided to the people who were homeless. And also clothes were provided to the people who had left all their belonging in their house and was staying in relief camps. Relief camps were also provided.
the NGO received Gaurav Samaan Award for its rigorous work. The award represents our tireless efforts to bring a change in the society. And to uplift the lifestyle of the poor and underserved.
Recognition and Gaurav Samaan Award;
The Smile India Trust received the coveted Gaurav Samaan Award in recognition of the outstanding contribution and constructive change it has made to society. The honour highlights the team's and volunteers' commitment, fervour, and relentless work on behalf of the NGO. It is evidence of their persistent dedication to helping the poor and giving them a better quality of life.
Future Plans and Their Impact;
The Gaurav Samaan Award will serve as a catalyst for Smile India Trust's continued growth and influence. The company intends to carry out more extensive activities centered on sustainable development, healthcare, and education. Government, businesses, and other NGO alliances would help Smile India Trust to have a more meaningful and long-lasting impact on the lives of those in need.
Conclusion:
Mr. Ram Niwas Goel the honourable speaker legislative assembly presented the Gaurav Samaan Award to Smile India Trust. For their extraordinary work in helping needy people during floods this year. And also in recognition of their everlasting dedication to significantly improving the lives of those who are less fortunate. through their significant programs for women's empowerment, healthcare, and education. Smile India Trust has shown the genuine spirit of social service. This honor serves as a reminder of the strength of kindness and the possibility for change when people and organizations come together to work toward a common objective.
For any kind of guidance or support, you can write us at [email protected]. Visit our website to understand our work in detail. Click on https://smileindiatrust.org/ to learn more about us. Follow us on various social media platforms. We are available on Facebook, Instagram, Twitter