Smile India Trust Organization is helping poor families. We are camping at several locations in Delhi/NCR and U.P. . This is important to talk about as this is the most ignored topic. People of old mentality mostly ignore saying all these things do not happen. Mental health does not refer to mental illness. Many people see both things in one frame. But, in reality, both are different. Your mental health can affect due to many reasons. Some of them are your family problem, financial issues, etc.
In 2018, India has the most number of depressed people in the world. Taking about this topic will bring awareness to society. This will also give them a better understanding of serious mental issues. Our volunteers arrange camps at several locations in Delhi, U.P., and Meerut. In the camps, the doctors make aware people of the need of bettering their mental health. During our night watch, we found many adults and children. When we met them, they were very sacred. Our volunteers counsel them and bring them to the doctors for proper care. You never know how a simple issue in your life can disturb your whole health. As an NGO we try to focus on both the physical and mental health of an individual.
In India, 6.5 percent of the population suffers from some sort of serious mental illness.
If you belong to the middle class or high class your parents might give attention to this problem. But, if you belong to a poor family do not even think of this problem they do not look at this as a problem. But, as an NGO we try our best to reach every door and then treat children with such issues.
What does Smile India Trust Organization do to protect children from this Issue?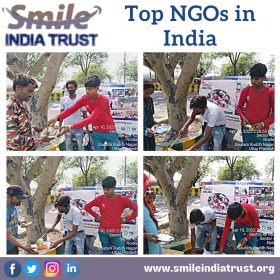 The Smile India Trust Organization will always come forward in helping poor people.
Firstly, when we meet them, we console them and provide meals for them.
Secondly, after food, we send them to the doctor's team. Where they give them various counseling sessions to improve their mental condition.
Thirdly, we educate them and support them in bettering their livelihood.
According to research, 150 million people do not have access to any mental health care. Many people need medical help, but they do not get the proper treatment that they need. They are often misdiagnosed or not diagnosed at all. This happens because of two reasons either weak finances or a lack of professionals. Mental illness is as serious as physical because kids nowadays face many problems.
The average suicide rate in India is 10.9 for every lakhs of people. And the average age of the people who commit suicide is people who are under 44 years of age. People get scared to talk about their struggles. They fear being an outcast and not being heard. We encourage people to talk to their friends, families, or anyone to calm them. Smile India Trust Organization urges every citizen who is reading this blog, please, help to those who are in real need. It does not matter how you are supporting all that matters are that you came forward.
If you want to support us in our ongoing activities kindly visit our website. Drop your query at https://smileindiatrust.org/. Visit our Facebook, Twitter, LinkedIn, and Instagram pages for daily updates.